Jurassic World: Dominion Dominates Fandom Wikis - The Loop
Play Sound
"
You won't give with anymore lip about staying here or Miho will have you, exhale.
"

— Wendy to Dwight
Wendy is a major character first appearing in The Hard Goodbye and several times thereafter. One of the Girls of Old Town she and her twin sister Goldie were the unofficial leaders of Old Town.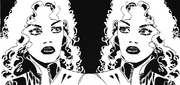 Goldie and Wendy meet Dwight who is healing after Molly's surgery to tell him that he should leave. Dwight insists that he is going to stay. Miho puts the tip of her katana on him, but then Dwight and Gail narrate how he tried to protect the lives of the Old Town girls including Miho's.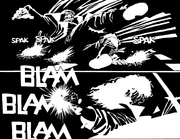 Wendy first appears just after Marv leaves Kadie's, thinking he killed Goldie. After Marv kills Padre, he goes out to see Wendy driving fast in a Porsche down the road. Marv thinks his "condition" is bringing on hallucinations again. She drives into him and shoots him a couple of times then leaves.
When Marv goes to find out about Goldie's past, he visits Old Town and asks about her. Wendy comes out and shoots Marv. The Old Town girls tie him to a chair and interrogate him. Wendy violently hits him with her gun and Marv then discovers she is not Goldie. Marv explains what he's been doing and Wendy lets him free, when she discovers that Marv had untied his knots and stayed there to take her hits willingly.
They get some equipment to catch Kevin, Goldie's killer and go to the farm. After Marv defeats Kevin, Wendy comes along and wants to shoot him, but Marv knocks her out so she doesn't see the gruesome death Marv gives Kevin.
He takes her to Nancy Callahan's house and asks her to look after Wendy; she should leave town so Nancy was told to drive her to San Diego and put her on a plane.
However Wendy stayed there. After Marv is imprisoned and sentenced to death, Wendy visits him before his execution and thanks him for helping her.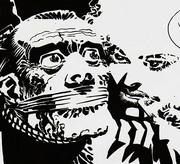 Wendy (who's now wearing Marv's necklace) is setting a trap for a man they suspect is 'carving up' girls in Old Town.
The enigmatic "Cowboy" is captured by the allure of Wendy and subsequently shot and tied up by Gail. Although the Cowboy is willing to confess to the cops, the girls have other plans and invite Miho to finish the job.
Wendy and Goldie are played by Jaime King.
Gallery
Comics
Sin City (film)
Sin City: A Dame to Kill For