Weevil
is a minor character in
Basin City
. Though unexplored, he seems to have deep ties into the criminal world making him a one stop shop for Sin City residents looking for information, usually at
Kadie's
. He wears grown sideburns and untended overly grown hair.
Weevil is briefly mentioned by Hartigan as a source for information.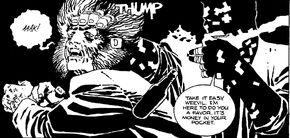 His first appearance is in
The Hard Goodbye
where he is threatened and tortured by
Marv
hoping to lure hitmen after him, and have leads to
Goldie
's death.
He is drinking in Luigi Pontormo's Bar when Dwight arrives there after checking out the murder scene.
Weevil is briefly seen and mentioned by Hartigan in That Yellow Bastard as a source for information.
The scene from The Hard Goodbye where he is menaced by Marv is absent from the final cut of the film, which skips instead to the hitmen accosting Marv. Weevil appears in the extended version. He is portrayed by Tommy Nix.