Vito
was the nephew of
Giacco Magliozzi
and brother of
Lucca
.
He carried out the hit on mobster Bruno at Poppa's Olympian Palace driving his Ferrarri. After his job was done, he shot an old dog for fun. However this shooting also killed Carmen who was nearby calling Daisy, who heard everything at the end of the other line.
The next night, and during the board of directors' meeting, Vito was out with Lucca, Spinelli and Vinnie, when he was notified by Fat Man and Little Boy that Dwight was investigating Bruno's murder at Luigi Pontormo's Bar. Thinking he was an agent of the Kraut, they abducted him and headed for the Projects, but Dwight is more interested in their car, which he claims he will take possession of once they're all dead
Unknown to the hitmen Miho has been following Dwight for protection. On the way, Vito tells his side of the story as to how he killed every living thing he saw, including the stray dog. Dwight is satisfied with this and orders Miho to make her appearance. She kills Spinelli, and pointing at Vito's spine, they are ordered to park in a hilltop rest area, overlooking the Projects. There, Miho toys with Vinnie as Dwight tells Vito to kill his own brother Luca. When Vito pointed his gun at Dwight, Miho threw to him a warning shuriken. Then Vito shot Lucca.
After Miho and Dwight are through, Vito drives them straight to Sacred Oaks to confront Don Magliozzi. While Miho seemed to be sleeping, Vito made for his gun to shoot them both, but Miho showed him that she is aware of everything around her.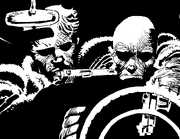 Once there, Miho cuts through the guards and Dwight makes his appearance. Vito begged for Don's forgiveness for not being able to stop them and allowing them inside, and the angry Don crushed his glass on Vito's face.
After Dwight told the Don they are all going to die for the accidental death of Carmen, her lesbian lover, Daisy, arrived. Dwight walked away from the Don and his associates. Daisy guns them down as Dwight took possession of Vito's car and drove off into the night.
Community content is available under
CC-BY-SA
unless otherwise noted.