Jurassic World: Dominion Dominates Fandom Wikis - The Loop
Play Sound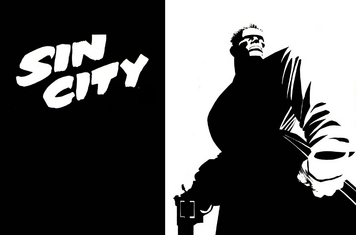 Sin City is the title for a series of comics by Frank Miller, told in a film noir-like style (now known as Neo noir). The first story originally appeared in "Dark Horse's Fifth Anniversary Special" (April, 1991), and continued in Dark Horse Presents #51–62 from May 1991 to June 1992, under the title of Sin City, serialized in thirteen parts. Several other stories of variable lengths have followed. All stories take place in Basin City, with frequent recurring characters and intertwining stories.
A movie adaptation of Sin City, co-directed by Robert Rodriguez and Miller with "special guest director" Quentin Tarantino, was released on April 1, 2005. The Sin City volumes were reprinted with new covers and in a reduced size to coincide with the motion picture's theatrical release. A planned sequel to the 2005 hit has been moved around the release schedule for years, with current plans having pre-production start in 2010.
Setting
The setting is Basin City.
Characters
Organizations
Because a large majority of the residents of Basin City are criminals, there are several organizations and cartels central to the stories who are vying for monopoly over the various criminal enterprises in the city. Listed below are crime syndicates, gangs and other low-lifes who figure heavily in the Sin City mythos.
So deep do corruption and criminality run in Basin City that even their police officers qualify as a gang of paid thugs, turning a blind eye to the affairs of those too poor to pay them off. Few among them are considered incorruptible; even the honest officers are unable (or unwilling) to curtail the criminal actions of the dishonest ones. Notable characters in the series who are police include Detective John Hartigan, his partner Bob, Lieutenants Jack Rafferty and Mort, Commissioner Liebowitz, and Officers Manson and Bundy from Hell and Back.

The Roark family

A dynasty of corrupt landowners and politicians whose influence over Basin City has stretched as far back as the days of the Old West. Famous Roarks of this generation include a senator, a cardinal, an attorney general, and Roark Junior, 'That Yellow Bastard'.

The Girls of Old Town

Populating the region of Basin City known as Old Town are a group of women in the world's oldest profession, having made a truce with the cops to allow them to govern and police themselves. As of A Dame To Kill For, they were led by the twins, Goldie and Wendy.
A powerful crime syndicate led by Herr Wallenquist, a mysterious crime lord with a broad range of criminal enterprises to his name. Interestingly, though one of the city's two "normal" criminal organizations, the Wallenquist management seems to be the most peaceful and forgiving of the various leaders.
The undisputed heads of the local Cosa Nostra, the Magliozzi family seems to be the purest example of "true" Mafia lifestyle. While they appear in only one story, it is hinted that the Mafia influence in Basin City's underworld is a lot larger than just their family.
Other groups that have been seen or mentioned in the comics include:
Tong gangsters

Mentioned, but not seen as of A Dame To Kill For. Miho's life was saved by Dwight when he secretly protected her during a fight with several Tong gangsters in a dark alleyway.

White slavers

Mentioned, but not seen as of A Dame To Kill For. Led by a man named Manuel, whose brothers were also involved. Were "taken care of" by Dwight prior to the events of A Dame To Kill For.
Seen during The Big Fat Kill, most of them are evidently former I.R.A. members, as implied by one of the mercenaries referring to his glee at blowing up a public house (British pubs were targeted by the I.R.A.). All are killed by Dwight and Miho.
Sin City yarns
These are the individual stories, usually referred to as "yarns," set in Frank Miller's Sin City universe.
The Babe Wore Red and Other Stories
Lost, Lonely & Lethal
Sex & Violence
Booze, Broads & Bullets

Just Another Saturday Night
Fat Man and Little Boy
The Customer is Always Right
Silent Night
And Behind Door Number Three?
Blue Eyes
Rats
Daddy's Little Girl
Wrong Turn
Wrong Track
The Babe Wore Red
Collected editions
The stories have been collected into trade paperbacks and hardcover "Library Editions". The hardcovers include two releases, which include Volume 1 (Books 1-4) and 2 (Books 5-7 and "The Art of").
TPB
There is also a collection of art, The Art of Sin City.
Awards
Sin City: The Big Fat Kill won the Comics Buyer's Guide Fan Award for Favorite Limited Series for 1996. Sin City: Family Values won the 1997 Eisner Awards.
Style
Sin City is famous for its artwork, which draws heavily from film noir, including its use of shadow and stark backgrounds. Black and white are the sole colors most of the time with exception of red, yellow and blue in some stories. Partial color usage is designed to draw attention to a certain character in the story.
The writing style also draws heavily on detective and crime pulp fiction. Strange metaphors and similes are often used. This gives the narration a very "pulpy" feel.
See also
References
External links