"
Shut up and keep your hands to yourself, or I'll cut your little pecker off.
"

— Shellie
Shellie, a barmaid at Kadie's and Dwight McCarthy's occasional girlfriend.
Dwight was drunk still whining about Ava; she tried to comfort him. Finally she takes him to her home and sleep together.
By the time Dwight visited Kadie's to look for Marv, he hadn't phoned Shellie for six months, and she scolded him.
Gail visits her and tells her that Dwight alive hiding in Old Town and to watch out when then police come to ask about him.
She later complains to Josie about the cowboys who become restless waiting for the beers they ordered. Josie replied that the kegs are being changed.
A Dame to Kill For (continued)

Mort
and
Bob
interrogate her about Dwight's whereabouts. She tells them about their affair.
Right after the cops leave, Shellie takes Marv's orders.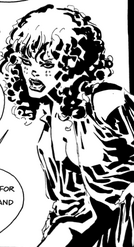 In the meantime when Dwight had left her, Shellie had a brief affair with Jack Rafferty who not only was married, but also was abusive. Once he hit her so hard that he gave her a large scar on her face; customers didn't flirt with her and she had no tips.
Then she reunited with Dwight and while he was in her home, Jackie-Boy invited himself and his buds in her apartment to have a party with her girlfriends. Dwight insisted that she opens the door but Shellie replied that he doesn't want to see Jackie's bad side. Eventually she opened the door when Jackie threatened to break it.
Once in the bathroom, Dwight attacked and humiliated Jackie who then took his buds and left. Dwight told Shellie that he would follow them to prevent any more troubles; as he jumped out of the window, Shellie shouted to him that he is a "cop".
Portrayed by Brittany Murphy.
She is the only character to appear in all three of the main stories ("That Yellow Bastard", "The Hard Goodbye", and "The Big Fat Kill").
Trivia
Although she played a supporting role in the "A Dame to Kill For" comic book, Frank Miller and Robert Rodriguez retired the character of Shellie from the film version instead of recasting her out of respect to the late Brittany Murphy.
Gallery
Sin City (film)