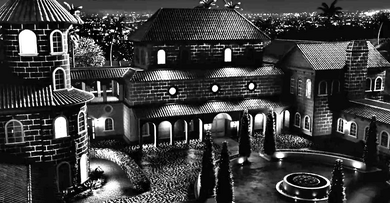 Sacred Oaks is the classiest neighborhood of Basin City, where the wealthy typically live. The origin of its name is obscure, as the Wild West was not associated with any culture that considered oak trees sacred (Celtic Europe, for instance).
The layout of Sin City is not clear as we have never seen a map, but from details in various stories we gather that Sacred Oaks has: 1) A University (the frat boys from Just Another Saturday Night are from there), 2) An airport distinct from Sin City's main one (Marv tells Nancy to take Wendy to Sacred Oaks and put her on a 'plane) 3) An efficient (possibly private) street-cleaning service (In Family Values, Dwight comments that you never see roadkill out there) 4) A railway station linked to the very old-fashioned-looking Basin City subway system.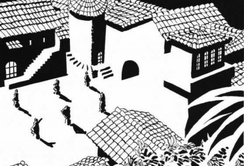 In both Wrong Turn and The Big Fat Kill, characters imply that Sacred Oaks is not far beyond the tar pits. In both Family Values and Just Another Saturday Night characters drive along the road overlooking The Projects en route to Sacred Oaks.
There seem to be plenty of trees in the neighbourhood, but oddly none of them look like oaks. The houses are big and expensive, but of varied architectural styles; Damien Lord's house (presumably in Sacred Oaks, though not explicitly stated) has a sort of "Hacienda" look whereas the Magliozzi family's mansion is ultra-modern with lots of glass, flat roofs and a big atrium, shades of Frank Lloyd Wright.