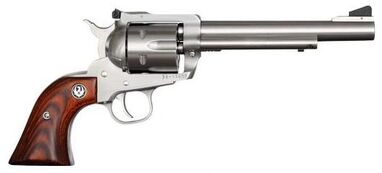 Ruger Blackhawk
is a weapon seen in the
film
.
Sin City
When Hartigan (Bruce Willis) returns from being in prison for eight years and meets up with the now nineteen year old Nancy Callahan (Jessica Alba), she gives him a stainless steel Ruger Blackhawk which he uses to shoot Roark Jr. a.k.a. Yellow Bastard (Nick Stahl) in the throat, and to kill a cop while going to rescue Nancy at the Roark family farm. Nancy herself wears a pair of stainless Ruger Blackhawks and some old town prostitutes are seen with them, noticeably Dallas the black masked Prostitute (Patricia Vonne).
Dallas uses two Ruger Blackhawks.
Nancy is seen with the Ruger in a promotional still.
Hartigan uses Nancy's Ruger.
Gallery
Community content is available under
CC-BY-SA
unless otherwise noted.