Jurassic World: Dominion Dominates Fandom Wikis - The Loop
Play Sound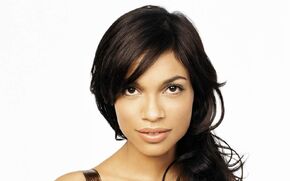 Rosario Dawson is an American actress who plays Gail in Sin City (film) and Sin City: A Dame to Kill For.
Biography
This stunning and resourceful actress has been primarily a film player thus far. Only recently has she been opening herself up more to doing television (the series Gemini Division (2008), which she executive-produced), and animated voice-overs. Dawson's beauty may owe to her diverse lineage, which includes Afro-Cuban, Puerto Rican, North American and Irish, yet it is her gritty, powerhouse talent that stands out even more in edgy, urban filming that dates back to 1995 when she was only sixteen.
A rags-to-riches article entitled "Rosario Dawson: From Tenement to Tinseltown" probably says it all. Born in New York City on May 9, 1979, the daughter of Isabel Celeste (Puerto Rican/Afro-Cuban), a singer, and Greg Dawson (North American/Irish), a construction laborer, her parents, who married when both were teenagers, eventually divorced. Rosario and her younger brother, Clay Dawson, had it hard while growing up and was cared for by family members, most of whom were poverty-stricken and some of whom were HIV-positive.
Her career actually started as a child when she made a minor showing on the children's show, Sesame Street (1969). As the story goes, she was "discovered" as an adolescent on her front porch step by two photographers. One of them, Harmony Korine, was an aspiring screenwriter who thought the inexperienced sixteen-year-old was ideal for the controversial cult film Kids (1995), in which she would portray a sexually active adolescent. It took time for Rosario's film career to kick in after that, but by the late 1990s, she had nabbed several independent films. Since then, she has moved into main-stream hits (and misses) and has surprised viewers with her earthy, provocative, uninhibited approach to her roles.
Reflecting New York's tougher, tawdrier side as assorted streetwalkers, homeless mothers, drug addicts, etc., her film highlights have included Light It Up (1999), Edward Burns' Sidewalks of New York (2001), Spike Lee's 25th Hour (2002) and Shattered Glass (2003). For Oliver Stone, she portrayed the duped bride of Colin Farrell's famed B.C. Macedonian warrior, Alejandro Magno (2004) (as in "...the Great"), which featured a notoriously violent-tinged nude/sex scene.
Expanding her horizons beyond film, she has always expressed interest in singing. She hooked up with Prince for the re-release of his 1980s hit "1999" and appeared in The Chemical Brothers' video for the song "Out of Control" from the album "Surrender". She is also featured on the Outkast track, "She Lives in My Lap". On stage, she co-starred as Julia in a revival of "Two Gentlemen of Verona" at the Public Theater's "Shakespeare in the Park" and appeared in "The Vagina Monologues".
She lucked into and got to show off her singing chops in the film adaptation of the hit New York musical Rent (2005), when Daphne Rubin-Vega, the original Mimi, became pregnant and was unable to reprise her exotic dancer role. Rosario also appeared as a prostitute in the adaptation of the graphic novel Sin City (2005). Of late, she has turned to producing. One of those, Descent (2007), had her playing a college coed who is brutally attacked and raped by a fellow student. Her more popular ventures have thus far included the role of Valerie Brown in the live-action version of the comic strip Josie and the Pussycats (2001), the Will Smith starrer Men in Black II (2002), Eagle Eye (2008) with Shia LaBeouf and Seven Pounds (2008), again with Smith, in which she offered one of her more tender-hearted performances as a woman with a potentially fatal heart condition.
Off-camera, the still-single Dawson is highly active in political, social and environmental causes and has been involved with such organizations/charities/campaigns as the Lower East Side Girls Club, Global Cool, the O.N.E. Campaign, Oxfam, Amnesty International, Parents, Families and Friends of Lesbians and Gays, Control Arms, International Rescue Committee, Voto Latino (which she founded), Conservation International, Doctors Without Borders, National Geographic Society, The Nature Conservancy and Save the Children. In October 2008, she lent her voice to the RESPECT! Campaign, a movement aimed at preventing domestic violence.
Trivia
Is an alumna of the Lee Strasberg Institute, along with such actors as Frank Miranda, Mickey Rourke, Scarlett Johansson, Dennis Hopper and Julia Roberts.

Is a huge fan of the Star Trek franchise, and even speaks broken Klingon language.

Her birthdate holds the record for the hottest May 9th ever in New York City at an approximate 97 degrees.
Sources