The family first arrived in Basin City during Gold Rush, when a Roark ancestor brought with him a large number of foreign prostitutes. The prostitutes were quite popular, turning a small mining camp into a thriving city. The Roark family would eventually gain political power as a result, controlling the land via their methods of corruption. The prostitutes themselves eventually split from the family and formed their own district reserved specifically for prostitution; this section would later be known as Old Town.
The Roark family thrived, with many family members in positions of power, until John Hartigan, Nancy Callahan, and Marv separately took action and toppled the family leaving only Attorney General Roark alive. With Roark Junior dead, the Roark family legacy and bloodline will die.
Members
Tree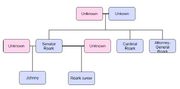 Community content is available under
CC-BY-SA
unless otherwise noted.