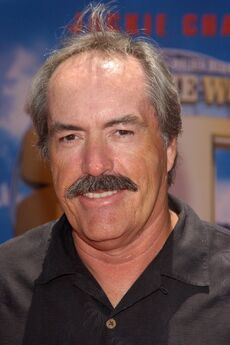 Powers Boothe is an actor. He portayed Senator Roark.
Biography
American actor born June 1, 1948, in Snyder, Texas. Leading man of the American stage, TV, and films. He made a strong presence in some films in the 80s, but he was most successful on TV. He won an Emmy award as Best Actor for his performance in the TV movie Guyana Tragedy: The Story of Jim Jones (1980).
Trade Mark
Frequently plays authority figures, military or government agents or clergy

Deep, gravelly voice and long face
Piercing "villain" eyes
Trivia
He was a member of the Lambda Chi Alpha fraternity at Southwest Texas State University.

In September of 1980, in an act of defiance, he showed up at the Emmy Awards ceremony to collect the award he had won for playing Jim Jones. The Screen Actors Guild was in the middle of a strike and members boycotted the ceremony until the strike was settled. He was the only winner in an acting category who showed up. The incident was referenced in the James L. Brooks film, I'll Do Anything (1994).
Personal Quotes
"This is either the most courageous moment of my career or the stupidest...I also thought long and hard whether or not I would attend, but I came here because this is America and one must do what one believes. I believe in the Academy. I also believe in my fellow actors in their stand." - accepting his Emmy, 1980.
Sources