"
Will that bring you satisfaction, my son? Killing a helpless, old, fart?
"

— Patrick questions Marv
Patrick Henry Roark was a member of the Roark family first introduced in The Hard Goodbye. A Catholic priest, he was nicknamed "Saint Patrick" though Marv quips the Pope hasn't gotten around to making it official yet.
Patrick Henry Roark ("A Man of the Cloth"), otherwise known as Cardinal Roark, was the most powerful man in town until his death. He was the elder brother of Senator Roark (who achieved status through his brother's influence) and Attorney General Roark and the uncle of Roark Junior. He was once a doctor and priest serving in the medical corps during either World War II or the Korean War. He earned significant praise as a result and later became a Cardinal, earning important political influence and extending the corruption within the state. Marv also stated that the Cardinal's influence is what allowed his brother to be become a United States Senator.
While serving the clergy, Cardinal Roark met Kevin, a cannibalistic serial killer who murdered and ate Old Town's prostitutes, believing he was inheriting their souls. Convinced that Kevin has been spoken to by God, Cardinal Roark shelters him at the Roark family Farm, located at North Cross and Lennox. He also joins in on Kevin's crimes, consuming parts of his victims' bodies.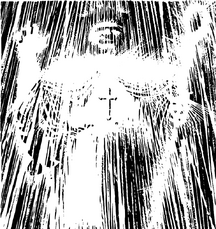 The Old Town prostitute Goldie learns of their crimes and prepares to inform the other prostitutes; she spends a night with Marv to gain protection, but Kevin nevertheless murders her and frames Marv for the crime. Marv then hunts down and kills members of the city's underworld to find Goldie's killer, eventually brutally killing Kevin and then visiting Cardinal Roark. Roark explains the story to Marv, who then proceeds to slowly & brutally kill him. It is never actually shown how Marv kills him, but it's implied he severs Roark's jugular.
Sin City: Film
In the 2005 film adaptation, Cardinal Roark was portrayed by Rutger Hauer. Hauer was one of the last actors to be cast, completing his role several months after Mickey Rourke, who portrayed Marv, had finished shooting. The only time they appear on-screen in the same shot is during their final confrontation, which was later edited in post-production utilizing both of their performances.