Painted Cop impersonator is a character seen in The Hard Goodbye.
The Hard Goodbye
The Painted Cop Impersonator was an alleged Basin City Police Department captain with tribal tattoos on his face. He arrived on a chopper at the Farm with a squad of armed police to kill Marvor anywhere Ne else he talked to about goldies death while they were escaping the basement..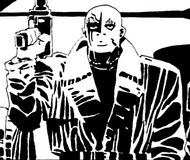 Seeing them,
Lucille
subdued Marv and attempted to surrender him so that he wouldn't get anyone else killed, and she was shot for her trouble by the Painted Cop impersonator
Marv wiped out the entire squad in vengeance as the Painted Cop impersonator in vain shot him and missed all the time, until and faced off against an ammo-less Painted Cop.
Marv interrogated him after showing him 'all those pieces of himself', before confirming the name Marv knew all along: Roark.
Then Marv murders him with a hatchet and takes possession of his 'damn fine coat'.
Ryan Rutledge played him in the film.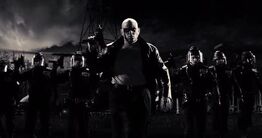 Community content is available under
CC-BY-SA
unless otherwise noted.