Jurassic World: Dominion Dominates Fandom Wikis - The Loop
Play Sound
"
Skinny little Nancy Callahan. She grew up. She filled out.
"

— John Hartigan
Nancy Callahan is a law student working as a stripper at Kadies's. She is one of the main characters in the Sin City comics and films. Her iconic cowboy themed dance, complete with Stetson and lasso, makes her one of the most recognizable persons in Basin City (her only competition being Marv).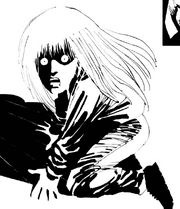 When she was 11 years old, Nancy was kidnapped by Roark Junior who was making a habit of torturing little girls to death. Brought to The Docks, she was rescued at the last second by John Hartigan who threw away his retirement to save her. Betrayed by his crooked partner, who shot him several times with a .357 Magnum Colt Python revolver, Hartigan was thrown into jail on the false charges of raping Nancy, but Nancy remembered him saving her and wrote him in prison once a week under the pen-name Cordelia (who she says was based on a detective character in a book). Over the years she slowly fell in love with her knight in shining armor. Eventually she came to work at Kadie's Saloon as a stripper. Taking on a Western theme, due to the joints Country stylings she soon became a sensation among the low denzines of Sin City. After one customer got fresh with her, Marv straightened him out, making the Kadie's regular her unofficial protector.
Tricked by the Roarks, Hartigan confessed to the false charges and was released from prison, his intention to save Nancy from the false danger he was led to belive she was in. Tracking her down to Kadie's he was shocked to discover her profession as a stripper, always assuming from the letters that she was a skinny academic. Amazed to see her long lost savior after all these years, Nancy stopped mid-dance to leap of the stage and greet him. Realizing he'd led the Roarks right to her, they left with the Yellow Bastard on their tail.
After wounding the assassin, Hartigan stopped at Mimi's motel where Nancy confessed her love to him. Feeling uncomfortable with the sudden, very sexual affections of the little girl he saved years ago Hartigan tried to dissuade her, Junior then finds and kidnaps both of them, revealing himself to be the stranger from earlier and explaining his changed appearance. He leaves Hartigan at the end of a noose to die.
It is here that we are shown another example of Hartigan's superhuman strength, as he wills himself from death and departs after Junior and Nancy. Fat Man and Little Boy come to take his body, but he hits them from behind, and they tell him that Junior went to the Farm. As Hartigan follows, evidence is shown indicating Nancy's resistance, such as stalling by refusing to tell Junior how to restart her famously unreliable car (which only she knows how to keep running) and her utter refusal to scream, despite Junior's torture, even taunting him about the fact that without hearing screams, Junior is impotent. 
Hartigan meanwhile pursued them back to the Roark family farm, where he rescued Nancy and then re-castrates Junior before beating him to death. After sharing a kiss with Nancy, he instructs her to leave the farm, telling her he will expose the Roarks and clear his name. However, upon her departure, he commits suicide with Nancy's .44 Magnum Ruger Blackhawk revolver, narrating that this is the only way to protect Nancy from the Roark family.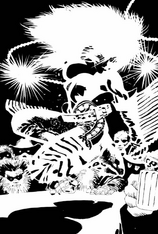 Nancy is seen dancing on the stage. Marv is there; watching her. Before her dance is over, she sees John and jumps across the customers and goes over to John and kisses him. They then leave.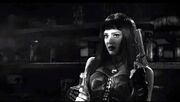 Nancy is seen dancing onstage. Later, she goes backstage and drinks from a bottle of rum. She stares at the senator from the other room. Later, she takes the bottle and rum with her onstage and starts dancing again. She sees Senator Roark leaving and aims the gun at him. She is unable to pull the trigger and then goes backstage again.
Set after John Hartigan's (Bruce Willis) suicide at the end of "That Yellow Bastard", this story centers around Nancy struggling to cope with his death, drinking alcohol and seeking to avenge him by killing Senator Roark. She has many opportunities to kill Roark whenever he comes to Kadie's, but she always backs off. After self-injuring her face and cutting her hair, she seeks the help of Marv.
Together they break into the Roark mansion, until Marv is heavily wounded and can't proceed any more with her. When she enters his office/living room, Roark is prepared and shoots her in the leg. Right when he is read to execute her, Hartigan's image appears in the mirror behind him, giving Nancy enough time to get her weapon, and finally shoot Roark.
A Dame to Kill For
Nancy is dancing when Mort and Bob enter Kadie's.
Nancy is dancing at Kadie's when Jim enters.
When Marv entered Kadie's bar she is seen dancing. Later on Marv went to her house with Wendy, Goldie's twin sister after killing Kevin. She should leave town so Nancy was told to drive her to San Diego and put her on a plane.
However Wendy stayed there.
Behind the scenes
Nancy like most characters first appeared in The Hard Goodbye and almost every comic since. Although a Sin City staple, Nancy didn't have a major part to play in the series until That Yellow Bastard which gave some insight into her life. She was played by Jessica Alba in the films. In "Sin City: A Dame to Kill For", she is the only character to appear in all four stories, as well as the first female protagonist of the series.
Gallery
Comics
Sin City (film)
Sin City: A Dame to Kill For