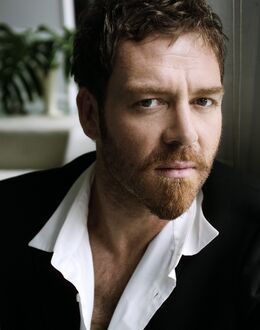 Marton Csokas is an actor. He portrayed Damien Lord.
Biography
Marton became an actor in 1989 after graduating from the New Zealand Drama School. His first movie role was in the 1994 movie Jack Brown Genius (1996) in which he played the role of Dennis. After starring for 2 years in the New Zealand soap opera Shortland Street (1992), he starred in the 1996 movie Broken English (1996) as Darko. After performing in a great number of theatrical plays, writing his own and co-founding his own theatre company, the Stronghold Theatre, Marton got the role of Tarlus in an episode of Hercules: The Legendary Journeys (1995). After that, he continued working with Renaissance Pictures, playing the roles of Khrafstar and Borias in the 1997-1998 seasons of Xena: Warrior Princess (1995). He continued appearing in many other shows in both NZ and Australia, such as Farscape (1999), BeastMaster (1999), Water Rats (1996), Cleopatra 2525 (2000), and more, returning for the role of Borias in three episodes of the 2000-2001 season of Xena: Warrior Princess (1995). He was also in many movies produced in NZ and Australia, such as Hurrah (1998), The Monkey's Mask (2000) and the mini-series The Farm (2001). Marton is a citizen of both New Zealand and Hungary.
His international film work includes playing Alice's father in Tim Burton's blockbuster Alice in Wonderland; Julie Bertucelli's The Tree with Charlotte Gainsbourg; Yann Samuell's L'âge De Raison (Age of Reason) with Sophie Marceau; Shirley Barrett's South Solitary with Miranda Otto; Jim Sheridan's Dream House with Daniel Craig; Timur Bekmambetov's Abraham Lincoln: Vampire Hunter. Mr. Csokas' performance in Richard Roxburgh's Romulus, My Father, with Eric Bana and Franka Potente, earned him the Australian Film Institute (AFI) Award and the Film Critics Circle of Australia Awards.
Csokas recently completed the Discovery Channel's upcoming miniseries Klondike, executive produced by Sir Ridley Scott. He can be seen next in Marc Webb's The Amazing Spider-Man 2, Robert Rodriguez's Sin City 2, Darren Aronofsky's NOAH and the second lead alongside Denzel Washington in The Equalizer.
On stage, he has played roles including "Orsino" opposite Rebecca Hall in Sir Peter Hall's staging of Twelfth Night at the National Theatre in London. He has previously starred in productions of Who's Afraid of Virginia Woolf? (George) at the Belvoir St. Theatre, directed by Benedict Andrews, which garnered him a Sydney Theatre Award nomination for Best Actor in 2007; Arcadia (Septimus); Julius Caesar (Brutus); and Angels in America (Joe), all with the Auckland Theatre Co.; Antony and Cleopatra (Antony) for Theatre for a New Audience in NYC; and the award-winning staging of Lillian Hellman's The Little Foxes, directed by Ivan Hove, at New York Theatre Workshop.
Trivia
His father was Hungarian and his mother had English, Irish, and Danish ancestry.

Father's name is also Marton Csokas.
Sources