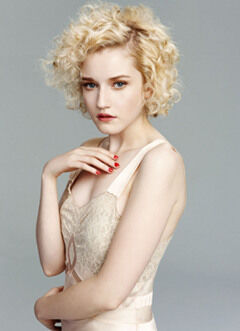 Julia Garner is an American actress, she portrays Marcie in A Dame to Kill For.
Biography
Garner was born in the Riverdale neighborhood in Bronx, New York. Her mother, Tami Gingold, a therapist, had a successful career in Israel around 30 years ago as a comedian, and her father is an art teacher. She has an older sister who is a producer. Garner is Jewish.
Garner resides with her parents in their house in New York City. She considers actress Bette Davis to be a major influence on her acting style and citing Davis's performance in What Ever Happened to Baby Jane?
Trivia
Her favorite actress is Bette Davis and her favorite films are "All About Eve", "Annie Hall", "Rosemary's Baby", "Babel" and "The Student Prince in Old Heidelberg".
Born and raised in New York she lives with her parents. Her father is an art teacher, and her mother Tami Gingold, 'a famous comedian in Israel 30 years ago', is a therapist.
At 15, she started taking acting classes as a hobby to help overcome her 'shyness'.
Sources