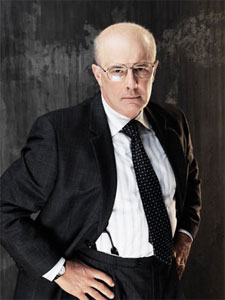 Jude Ciccolella is an actor. He portrayed Liebowitz.
Biogrpahy
Majoring in Philosophy, but drawn to the theater, Jude began acting at Brown University in 1968, under the tutelage of James O. Barnhill. Upon graduation, and before charting his course, he did two years of social work at the Department of social Services in Albany, New York. In 1971 he headed for Graduate School, and after receiving an MFA in Acting from Temple University in 1973, studying with Arthur Wagner and Joel Friedman, he spent a number of years performing on stage locally in Philadelphia; at Temple University, The Philadelphia Company, Etage, The Hal Prince Theater at Penn, Back Stage at the Annenberg Center ( a group which he co-founded), and in a number of Frank Roberts' historical productions-all the time earning his keep as a stage hand at the Annenberg Center and with the IA. He also performed at the Brown University Summer Theater (which he co-founded in 1969) and at Penn State University. In these years the roles included, among others, Stanley in "A Streetcar Named Desire," Teach in "American Buffalo," Roat in "Wait Until Dark," Lenny in "The Homecoming," The Gentleman Caller in "The Glass Menagerie," Benson in "The Happiness Cage," and Green Eyes in "Deathwatch." At nights The Head House Tavern provided Jude with a musical venue, where he developed his singing and song writing skills on the cobbled streets of Second and Pine in the Society Hill section of Philly. Jude finally arrived in NYC for keeps with $1500.00 in his pocket and all of his union cards in the Fall of 1981. He did the usual stints in the "showcase" world, got agent representation, and embarked on the professional actor's journey. He was fortunate to study with Curt Dempster and become a member of the Ensemble Studio Theater, where he performed in many readings and shows, including pieces by David Mamet, Jim Ryan, and Earnest Thompson in the popular yearly Marathons. Later on, in the mid 90's, Jude would be invited to be a member of The Actors Studio, where, in doing scene work, he would gain valuable thespic insight from Arthur Penn, Frank Corsaro, and Estelle Parsons. Supporting himself by moving furniture (on call 7 days a week), and after countless auditions, he finally began to get paid as an actor---in commercials. His first actual union theater job as an actor in NYC was as an understudy in "Yellow Fever" at the Pan Asian Repertory Company in the summer of 1983. Then in 1985 he was cast as Ellis in Sam Shepard's "Curse of the Starving Class," with Kathy Bates. This proved to be a huge grass roots hit, and led to work on TV in "The Equalizer, the pilot "Police Brass" (with Carroll O'Connor), and the movie of the week "Out Of The Darkness" (with Martin Sheen). It was the mid-eighties, and Jude began to work regularly at this point. Films started to come. After small roles in "Shakedown" (with Peter Weller) and in Nicholas Roeg's "Insignificance," he had significant parts in "Critical Condition" (with Richard Pryor) and in John Sayles' "City Of Hope." In between continuous TV work ,which included, among other shows, "Spenser For Hire," movie of the weeks "With Murder In Mind" (with Elizabeth Montgomery), "Inflammable" (with Kris Kristofferson and Marg Helgenberger), "Alone In The Neon Jungle" ( with Suzanne Pleshette), "Harrison" (with Edward Woodward), "Janek" ( with Richard Crenna), three episodes of "Law And Order," "Dellaventura" (with Danny Aiello), the pilot "It's True" ( in which he co-starred with Dean Stockwell), "Walker: Texas Ranger," "Martial Law," "100 Center Street," "The Others," "ER," and "The Agency," some exciting film opportunities also presented themselves. Jude worked with Jack Lemmon, Al Pacino, Ed Harris, Kevin Spacey, and Alec Baldwin in "Glengarry Glen Ross," with Morgan Freeman and Tim Robbins in Frank Darabont's "The Shawshank Redemption," with Drew Barrymore in "Mad Love" and "Boys On The Side" (also including Mary Louise Parker), with Andy Garcia in Sidney Lumet's "Night Falls On Manhattan," with Bruce Willis in "Mercury Rising," and in Jonathan Demme's "Beloved" (with Danny Glover). Before heading to LA at the millennium's end, Jude had appeared in a number of rewarding New York Stage productions, which included Gary Richards' "The Root" (directed by Matt Penn) at the Atlantic Theater company, David Rabe's "Those The River Keeps" (with Paul Guilfoyle and Annabella Sciorra and directed by Mr. Rabe), Richard Dresser's "Below The Belt" (with Judd Hirsch and Robert Sean Leonard and directed by Gloria Muzio), the Signature Theater Company's production of "Curse Of The Starving Class" (playing Weston this time), and "Jersy City" (directed by Risa Bramon). Business continued to be kind at the turn of the century. Some fabulous Big Screen work opened up for him, along with some very significant TV work. "24" gave him the part of Chief of Staff Mike Novick, one of the iconic characters on the very popular show. He also played the SECNAV on "NCIS" with Mark Harmon and the principal in Chis Rock's "Everbody Hates Chris." Among other shows, he guest starred on "The Guardian," "Medium," "CSI," "CSI New York," "NYPD Blue," "House," "The Mentalist," "Monk," "Life," "Burn Notice," "Detroit 187," "Body Of Proof," "Boston Legal," "Prison Break," "Touch," and the TV movies "Codebreakers" (with Scott Glenn) and "Perfect Day" (with Rob Lowe). Films included Carl Franklin's "High Crimes" (with Morgan Freeman and Ashley Judd), "Star Trk: Nemesis" (with Tom Hardy), Robert Rodriguez's "Sin City" (with Bruce Willis), Jonathan Demme's The Manchurian Candidate" (with Meryl Streep), Oliver Stone's "World Trade Center" (with Nicholas Cage), Steven Spielberg's "Terminal" (with Tom Hanks), Chris Rock's "Head Of State," and Joel Schumacher's "Flawless" (with Robert DeNiro). Jude has also remained on stage on the west coast. Having co-founded "The Eumenides Group" with friend Bill Bolender, he has performed leads in John Tuttle's "Drift," Richard Dresser's "The Pusuit Of Happiness," and Steve Tesich's "The Speed Of Darkness," all plays directed by the talented Mr. Bolender. Jude also co-produced a production of Laura Maria Censabella's "Last Call" with the Pacific Resident Theater. This was later made into an award winning short (best film, best director, best actress (Dana Dewes) and two best actor awards for Jude) directed by Robert Bailey. Jude serves on the Board of Directors of the exciting Whitmore Eclectic Theater. Recent film work includes the co-lead in the cult horror flick "Serving Up Richard" (with Ross McCall), "Event 15" (with James Frain), "Mentryville" (with Danny Glover), "Julia" (with the Tilda Swinton), "The Babymakers," and the sequel to Frank Miller's "Sin City," "Sin City 2: A Dame To Die For," where Jude returns as Liebowitz. He also worked with director Jon Avnet on the web series "Susanna," with Anna Paquin and Maggie Grace. In Los Angeles Jude keeps himself artistically fortified with regular attendance at Lou Antonio's sessions at The Actors Studio. He has also produced a fourth original CD in LA, with plans for another one in 2014. His band is one of the most popular at Viva Cantina in Burbank. Jude likes to say that they play the soundtrack of his life the music he grew up with. Including ace musicians Candy Chase, Doug Livingston, Craig Stull, and band leader Bill Severance, there are occasional well received guest appearances by The Hormones (Sylva Kelegian and Cathy G), John "not of this earth" Timmons, and Ethan John Phillips. Jude is married to the beautiful and talented actress Sylva Kelegian.
Trivia
At CBA he was captain of the basketball team and was voted most valuable player by his teammates in Football. He once pitched a 10 inning, no hit, Babe Ruth game with 20 strike outs.

He has a B.A in Philosophy from Brown University

He is the sole composer and performer on four CDs.

Has appeared alongside Kiefer Sutherland in both 24 (2001) and Touch (2012).
Sources