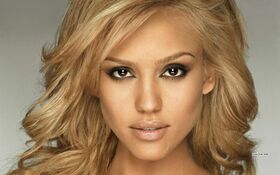 Jessica Alba is an American actress and model who played Nancy Callahan in the Sin City (film) adaptation.
Personal Life
Jessica Marie Alba was born on April 28, 1981 in Pormona, California and attended the Atlantic theatre company. She starred in a TV show in 1994 and from there went on to star in many films including Fantastic Four, Knocked Up, Fantastic Four: Rise of the Silver Surfer and Machete, the latter is directed by Sin City director Robert Rodriguez. Alba reprised her role as Nancy Callahan in Sin City: A Dame to Kill For in 2014.
Trivia
Older sister of Joshua Alba.
Was #1 on Maxim's Hot 100 Babe List. [2001]
Her father's ethnic background is Mexican, her mother's is French and Danish.
Was voted the fifth Sexiest Female Star for 2002 in a Hollywood.com poll. Also, formerly engaged to Michael Weatherly. [Feb 2002]
Her show "Dark Angel" was canceled after two seasons on Fox.
Sources