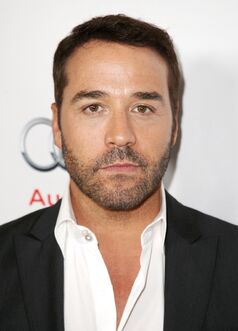 Jeremy Piven is an actor and producer. He portrays Bob in Sin City: A Dame To Kill For.
Biography
Born in New York city, Jeremy Piven was raised in Evanston, IL., the location of his parents (Joyce and Byrne Piven) theater school (the Piven Theatre Workshop). Piven is an alumnus of his parents theater school and is a longtime friend of fellow alumnus John Cusack. Jeremy Piven is a graduate of Evanston Township High School, Drake University (as an undergraduate), New York University (for a graduate degree), and the Eugene O'Neill Theater Center and The National Theater of Great Britain (where he intensely studied Shakespearean acting.) Piven's first true national televised success came in the form of the critically-acclaimed ABC T.V show, Cupid, which was filmed in Chicago where Piven now owns a home. The show was cancelled after only a few episodes. Piven was also a regular on Larry Sanders Show, and Ellen in the early and mid 1990s respectively, but neither garnered him as much recognition as his role in Cupid. During the same time frame, Piven was able to score a few guest stars on several renowned shows such as the popular sitcom Seinfeld. More recently, Piven was a guest star on yet another sitcom, the long-running NBC hit Will & Grace. Over the years, Piven has also been the voice of many cartoon characters. He was a regular on All Grown Up, the sequel series to the popular Rugrats cartoon (which he provided voices for as a guest star on two occassions). In addition, Piven provided his voice for characters from superhero cartoons Justice League Unlimited and MTV's Spider-Man. Piven has also made an assortment of single episode appearances on a number of other TV cartoons. Piven has been involved in over 40 films over the years, including Grosse Pointe Blank, Serendipity, Say Anything, Black Hawk Down, Phoenix, Kiss the Girls, Just Write, Rush Hour 2, Music from Another Room and Very Bad Things. More recently, Piven has had more significant roles in films including Runaway Jury, Old School, Chasing Liberty, Two for the Money and Keeping Up with the Steins . Piven's latest and greatest success, however, has been on the small screen in his role as super agent Ari Gold in the HBO series "Entourage", which has won him three consecutive Emmys in 2006,2007 & 2008.
Trivia
Studied acting at the National Theatre in London.

Studied acting at the Eugene O'Neill Theater Center in Waterford, CT.
Was twice released from contracts for Broadway plays due to professional disputes with producers. These were the only two New York plays in which he was ever cast.
Sources