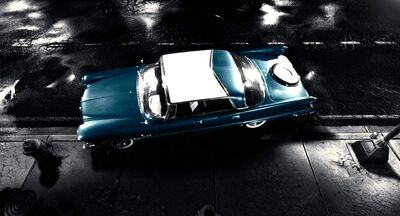 1957 Imperial Sedan
is a vehicle seen in
Sin City
.
Overview
Imperial was the Chrysler Corporation's luxury automobile brand between 1955 and 1975, with a brief reappearance in 1981 to 1983.
The Imperial name had been used since 1926, but was never a separate make, just the top-of-the-line Chrysler. However, in 1955, the company decided to spin Imperial off as its own make and division to better compete with its rivals, Lincoln and Cadillac.Imperial would see new body styles introduced every two to three years, all with V8 engines and automatic transmissions, as well as technologies that would filter down to Chrysler corporation's other models.
1957
The 1957 model year was based to an even greater degree on Virgil Exner's "Forward Look" styling (also used on other full-size Chryslers of the period). It featured a complicated front end (similar to Cadillacs of the period) with a bulleted grille and quad headlights, tall tailfins, and Imperial's trademark gunsight taillights. For the first time on an American car curved side glass was used. The Hemi engine was available for the first two years that was enlarged to 392 cu in (6.4 L). Power seats and dual exhaust were made standard across the line. A convertible was available for the first time on an Imperial and available in the mid-range Crown series. Sales were helped by Exner's "ahead of the competition" styling, with 1957 becoming the best-selling Imperial year ever. 37,593 were produced, but Cadillac by contrast sold over 120,000 cars in 1957. Quality control also slipped considerably, a consequence of the second total redesign in two years.
Starting from 1957, Imperials were available in three levels of trim: standard Imperial (also known as Imperial Custom), Imperial Crown, and the new, super-luxury Imperial LeBaron (not to be confused with the later, cheaper Chrysler LeBaron). Through the late 1950s and into the early 1960s styling would continue to become "Longer, Lower, Wider", with the addition of some of the wildest fins on a car. The "FliteSweep Deck Lid", a fake continental tire bulge, was an option from 1957 through 1961 and again in 1963 (due to demand). It was shared with contemporary Mopars, including the Valiant. Exner's love of this feature extended back to early-fifties concept cars like the 1953 Chrysler D'Elegance.
In The Film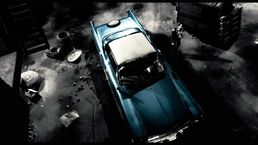 This is
Jackie Boy's
car.
Community content is available under
CC-BY-SA
unless otherwise noted.