Don Giacomo "Giacco" Magliozzi
was the leader of
Magliozzi crime family
and the local Mafia, residing in
Sacred Oaks
. He was enemies with
Wallenquist
. He was uncle of
Vito
,
Lucca
and Andrea Vittoria Magliozzi.
Once Bruno killed Andrea, and Magliozzi tortured and murdered people to learn who killed his niece. The Kraut did anything to cover Bruno's traces from that event.
When Angie uncovered Bruno's past, Magliozzi went against his family's treaty with mob boss Wallenquist and ordered Vito to kill Bruno, who is on Wallenquist's payroll.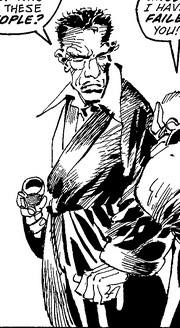 Miho and Dwight kidnapped Vito and headed straight to Sacred Oaks to confront Don Magliozzi, driven by Vito. They broke in killing the Magliozzi bodyguards until they entered the conference room. A scared Vito begged the Don for forgiveness for his failure. Dwight told the Don he is going to die along with Vito, and revealed why: he started to narrate the life of Daisy and her lover, Carmen of the Old Town girls. The Don interrupted him and Dwight shot him in the leg.
He explained the accidental death of Carmen: Vito had shot at a stray dog, and the angles were in a straight line to a nearby phone booth where Carmen was calling for a ride.
Daisy, arrived as Dwight walked away from the Don and his associates. Daisy gunned them down as Dwight remarks there's going to be a mob war because of this, but that neither he nor the girls of Old Town will have cause to worry about it.
Community content is available under
CC-BY-SA
unless otherwise noted.