Jurassic World: Dominion Dominates Fandom Wikis - The Loop
Play Sound
"
Always and never.
"

— Gail
Gail is one of the Girls of Old Town she was the right hand woman of Wendy and Goldie while they ran Old Town but eventually took over herself after Goldie was killed. Dwight McCarthy's lover, she is usually involved in adventures that involve him.
Gail liked European black coffee.
After Dwight McCarthy was tricked and shot by Ava Lord he told Marv to bring him to Old Town, knowing his ties there could help take down the Dame to Kill For. As they drove there they brought cops behind them, which were shot by the girls. Gail with Miho found the two runners and demanded an explanation. Gail heard Dwight's name and saw him bathed in blood, and called for Molly.
At first he is treated with suspicion by Wendy and Goldie, who are only stopped from killing him by Gail's insistence. After patching him back up and giving him a new face via. plastic surgery he convinces them to help him get revenge by having Gail and him infiltrate a party Ava was throwing in order to get close to his target. In the end they succeed killing Ava and getting Dwight his revenge and once again Gail and him part ways.
Gail is seen in Kadie's talking to Shellie telling her that Dwight is well and is hiding in the Old Town; and to be careful what to tell to the cops.
Gail was there when Marv was captured by Wendy and herself made the knots to tie him (as she is an expert). She urged Wendy to hit him harder and harder, as they interrogated him about Goldie's death.
However it turned out that Marv was investigating her death too, and that he had untied his bonds himself, sitting and taking Wendy's hits willingly.
Before leaving, Marv asked for handcuffs in order to catch the murderer, and Gail gave him those she carried with her.
A Dame To Kill For (continued)
Gail posed as a waitress in a party at Lord Mansion and overheard Ava's dialogue with Wallenquist about partnership of their organizations. She also heard that his agent would come the next day from Phoenix and negotiate with her.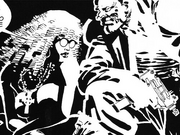 The agent never made it to the train and "Eddie" (who is in fact Dwight with his new face) arrives. Gail posing him as his promiscuous girlfriend "Philly" is waiting for him in their car (hiding Miho in the compartment) and are accompanied by Manute to the Mansion.
As "Eddie" goes to meet Ava, "Philly" is looked after the bodyguard Boogaard, but with her charms she makes him approach and punches him unconscious. Miho emerges from the compartment and then the two throw to the guards a bag of explosives. This gives Dwight the diversion to shoot Manute and finally Ava.
Dwight along with Gail kill Jack Rafferty and his friends with the help of Miho. When they realize that they are all cops of Basin City Police Department, she helps Dwight find a car and dispose the bodies.
While he is missing, the Mob arrives to Old Town and Gail is captured by Manute and tortured by Davis.
However Dwight arrives and saves her. The girls of Old Town come armed and shoot everyone dead.
Wendy sets a trap for a man they suspect is 'carving up' girls in Old Town.
The enigmatic "Cowboy" is captured by the allure of Wendy and subsequently shot and tied up by Gail. Although the Cowboy is willing to confess to the cops, the girls have other plans and invite Miho to finish the job.
Sin City films
Portrayed by Rosario Dawson in Sin City. Rosario Dawson returned in Sin City: A Dame To Kill For in the 2014 film.
Gallery
Comics
Sin City (film)
Sin City: A Dame to Kill For