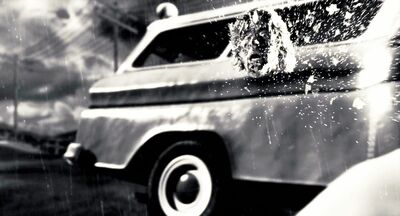 GMC Suburban is a vehicle seen in the film.
Overview
The Chevrolet Suburban is a large sport utility vehicle from Chevrolet. It is the longest continuous use automobile nameplate in production in the world, starting from 1934 for the 1935 U.S. model year, and has traditionally been one of General Motors' most profitable vehicles. The Suburban is also the world's first SUV (body on frame) The Suburban has been produced under the Chevrolet, Holden, and GMC marques until the GMC version was rebranded as the GMC Yukon XL. For most of its recent history, the Suburban has been a station wagon-bodied version of the Chevrolet pickup truck, including the Chevrolet C/K and Silverado series of truck-based vehicles. Cadillac offers a version called the Escalade ESV.
The Suburban is sold in The United States (including the insular territories), Canada, Mexico, The Philippines, and the Middle East as a Left-hand drive vehicle, while The Yukon XL is sold only in North America and The Middle East territories.
Sixth generation (1960–1966)
The styling of the 1960 - 1961 model year took cues from the late 1950s Chevrolet cars and had large oval ports above the grille. Front independent suspension was new for 1960. The cab featured a "wrap around" windshield. Both tailgate and panel doors rear openings were available. From 1962 onwards, the hood styling was more conservative, with hoods that eliminated the large ports. In 1964, the front glass area was updated to a flatter windshield, and larger door glass. 1,150 lb (520 kg) of cargo could be carried in the back.
This model series introduced a factory-equipped 4WD ("K") option for the first time. The 2WD "C" models introduced a torsion bar-based independent front suspension and trailing arm and coil spring rear. But by 1963, returned to a more conventional coil-spring approach.
Engines included both I-6 and small-block V8s. A 305 cu in (5.0 L) GMC V6 engine was also available on GMC models. This 305 was actually from GMCs medium-duty truck line. It featured high torque, but was also notable for poor fuel economy. Transmissions were a 3-speed and 4-speed manual, and the automatic Powerglide.
A 15-passenger conversion was done by Stageway of Fort Smith, Ark. These modified Suburbans had three doors on the right, a 171 in (4,343 mm) wheelbase, were 273 in (6,934 mm) long, and weighed 6,300 lb (2,858 kg).
One ton (C-30), 10-foot (3 m) panel truck models were no longer available after 1966.
In The Film
The Irish mercenaries had driven this vehicle until they were cornored by Dallas, Miho and Dwight.