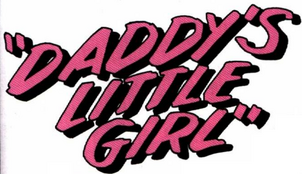 Daddy's Litte Girl
is a yarn and is also a short story seen in
Booze, Broads, & Bullets
.
Plot
Johnny is a middle-aged man who seems to be in love with a much younger girl, Amy. Amy insists that they cannot be together and alludes to the solution that he kills her father. Torn by his emotions and manipulated by Amy, he attempts to confront her father first, asking for her hand in marriage. Daddy refuses and Johnny shoots
him with a revolver that Amy gave him. Daddy then reveals that the gun was in fact loaded with blanks and was a plot orchestrated by him and Amy. The two are either lovers with a daddy/daughter fetish based relationship or a father and daughter in an incestuous relationship. Daddy strangles Johnny for sexual satisfaction, and it implied this was the only way he was able to become aroused.
Characters
Gallery
Community content is available under
CC-BY-SA
unless otherwise noted.