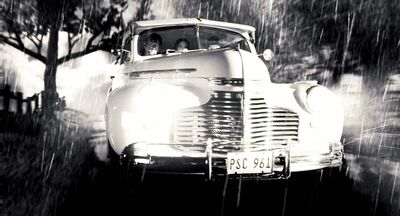 Chevrolet Deluxe is a vehicle seen in Sin City (film).
Overview
The Chevrolet Deluxe was introduced late in the 1941 model year as a 4-door sedan. In 1942 a fastback 2-door "aerosedan" became an option. Production was indefinitely delayed in 1942 due to WWII, after 110,000 had been made total, though several thousand Chevrolet coupes and sedans were produced during the war years for military staff use. In late 1945, civilian production resumed. The original series was produced through 1948. A redesigned Deluxe with reduced body contour and integrated rear fenders was offered for the 1949 and 1950 years.
1941–1948
In 1941, the Master and Special Deluxe had updated styling from the year before with things such as a new grill, new suspension, new curves, and the headlight mounted in the fenders. The Special had better fabric than the Master, along with arm rests in the doors. There was full instrumentation. 1942 models got blackout trim in January. The Signal-Seeking radio became an option. On February 1, 1942, civilian automobile production halted for war production. When 1946 came along, the names were changed to Stylemaster and Fleetmaster.
In The Film
Miho, Dwight and Dallas used the car to go get Jackie Boy's Head.