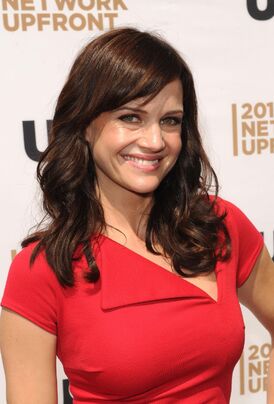 Carla Gugino is an Italian-American actress who portrayed Lucille in the film adaptation of Sin City (film).
Biography
Carla was born in Sarasota, Florida. Moved with her mother to Paradise, California, when Carla was just five years old. During her childhood, they moved many times within the state. But she remained a straight-A student throughout high school and graduated as valedictorian. A major modeling agency discovered Carla in San Diego and sent her to New York to begin a new career when she was 15. New York was more than she could handle at that young age, so she returned to LA in the summer, modeling and enrolling in an acting class at the suggestion of her aunt, Carol Merrill, known from Let's Make a Deal (1963). During her free time, Carla enjoys yoga, traveling and spending time with her friends in Los Angeles.
Trivia
Is only seven years older than Malin Akerman, who played her daughter in Watchmen (2009).

Starred in two films in March 2009 that were back to back openings and USA box office kings. Watchmen (2009) opened March 6th, 2009, and was the number one film of the weekend. Race to Witch Mountain (2009) opened March 13th, 2009, and was the number one film of that weekend.
Featured in the 1994 Bon Jovi music video 'Always' alongside Jack Noseworthy, Jason Wiles and Keri Russell.
Sources