Bruno

Occupation:
Assassin (formerly), Politician (current)
Gender:
Male
Comic Appearances:
Family Values
Affiliation(s):
Wallenquist
Bruno
was a low rent killer until the
Kraut
made him a high-rent assassin. During his career, he murdered a "stoolie" while in bed with Andrea Vittoria Magliozzi; not knowing who the prostitute really was, Bruno killed her in order not to leave any witnesses.
Family Values
The Kraut, wanting a city councilman to control, put him into politics. During this career he became a champion for family values, while Giacco Magliozzi tortured and murdered people to learn who killed his niece. The Kraut did anything to cover Bruno's traces from that event, but Bruno's wife, Angie, who posed as a woman turned on with bloody stories, learned everything about Bruno's past.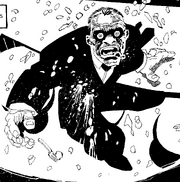 A day after Angie sold the evidence to Magliozzi, Bruno went to the Olympian Palace; it was a Greek holiday but he convinced Poppa to serve his favorite pastitsio. While there, Vito came and shot him.
The next day, Dwight McCarthy was sent by the girls of Old Town to investigate his murder.
Community content is available under
CC-BY-SA
unless otherwise noted.