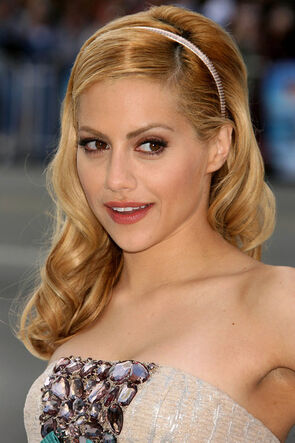 Brittany Murphy
was an American actress. She had portrayed
Shellie
.
Biography
Brittany Murphy was born Brittany Bertolotti to Angelo "AJ" Bertolotti and Sharon Murphy on November 10, 1977 in Atlanta, GA. Her father moved the family back to Edison, New Jersey as a native New Yorker and to be closer to other siblings from previous marriages. While dining out one night in the presence of Hollywood royalty, Brittany at the age of 5 approached an adjoining table when Academy Award nominee Burt Reynolds and George Segal were seated. Brittany introduced herself to the Hollywood legends and confidently told them that someday she too would be a star.
She comes from a long line of international musicians and performers. Angelo Bertolotti was torn from their tight-knit family as a made-man with the Italian Mafia. The Senior Bertolotti, who coined the nickname of "Britt" for his daughter, was also an entrepreneur and diplomat for organized crime families and one of the first to be subjected to a RICO prosecution.
Brittany's interests and well-being were always her father's first goal and objective. To distance his talented daughter from his infamous past, Angelo allowed Sharon to change Brittany's last name to her maiden name of Murphy, so that her shining star would not be overshadowed by a father's past, with the couple divorcing thereafter.
Brittany began receiving accolades and applause in regional theater at the early age of 9. At the age of 13, Brittany landed several national commercials. She appeared on television and caught the attention of a personal manager and an agent. Soon, Brittany's mother Sharon turned full-time to being a "Stage Mom". The hopeful couple moved to Burbank, CA, where Brittany landed her first television role on "Blossom" (1990). Hearts and doors opened up for a starring role on "Drexell's Class" (1991), a short lived TV series.
Brittany's big screen movie debut started with Clueless (1995), where she was co-starring with Alicia Silverstone. Britt soared, demonstrating her musical and artistic talents with dramatic and comedic roles landing a nomination for best leading female performance in the Young Artist Awards for her role in the television film David and Lisa (1998).
Brittany garnered tremendous attention for her role in "Girl Interrupted" with Academy Award winner Angelina Jolie. Brittany's band, "Blessed Soul" was growing with her as lead singer and Britt lent her vocal talents to the TV hit, cartoon sensation, "King of the Hill" (1997) as the voice of Luanne.
Brittany became a witness in the case of the Department of Homeland Security, Julia Davis, who reported a breach of national security on 4 July, 2004, when 23 persons from terrorist countries were allowed to enter the US without proper processing. Brittany bravely refuted material misrepresentations made by the DHS personnel in an attempt to discredit Julia Davis.
Brittany and her fiancée Simon Monjack were then targeted for retaliation that included land and aerial surveillance and a threatened prosecution. Monjack was arrested and detained by the Bureau of Immigration and Customs Enforcement (ICE). Brittany and Simon confided in Alex Ben Block of the Hollywood Reporter, telling him in an interview that they were under surveillance by helicopters and their telephones have been wiretapped. This information was published by THR posthumously, in an article entitled "The Last Difficult Days of Brittany Murphy."
On December 20, 2009, Brittany Murphy died an untimely death. The LAPD and Los Angeles County Coroner closed the case within one hour, attributing her death to pneumonia and anemia.
Five months after Brittany's unexpected demise, her husband Simon Monjack was found dead in the house he shared with Brittany. The LA County Coroner Craig Harvey stated that Simon also died from the same exact causes as his wife, namely pneumonia and anemia. Neither Brittany, nor Simon were given a thorough and complete forensic autopsy.
Brittany's father, Angelo "AJ" Bertolotti, is pursing the investigation of the true reasons behind Brittany's and Simon's sudden demise, as he believes that the two were murdered. On November 15, 2013 LA Homeland Examiner, Investigative Journalist Julia Davis broke the Brittany Murphy story, reporting that abnormally high levels of heavy metals were discovered in Brittany's hair, tested by an independent forensic lab by request of her father, AJ Bertolotti. Angelo Bertolotti is co-writing a book "Britt" with accredited produced screenwriter, Julia Davis.
Trivia
She was born Brittany Bertolotti but changed her name to Brittany Anne Murphy when her parents split.

She stated in her will that all of her assets should be left to her mother, Sharon Murphy.

She played the trumpet and piano.

She visited the US troops in Baghdad and Kuwait.

She took dance classes six days a week as a kid.
Sources
Community content is available under
CC-BY-SA
unless otherwise noted.