"
It's my preference to blow things up. Once you blast the roof off a pub, and see all the parts flying off people, a little bang-bang's never going to match the sight of that.
"

— Brian to Dwight
Brian was one of the Irish mercenaries hired by the Mob to hunt down Dwight McCarthy and bring evidence for the death of Jack Rafferty.
When Dwight came to The Pits to dispose of Jackie Boy's body, they shot him. After this the mercenaries argue about how good America is. However the bullet that was fired was blocked by Jack Rafferty's badge and Dwight shot them in return.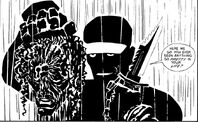 Other mercenaries show up with Brian who throws a grenade which sends both Dwight and the car into one of the tar pits. As Dwight sinks into the tar
Miho
and
Dallas
kill all of the Mercenaries and save Dwight. Brian enters a sewer where he is followed by Dwight and taunts him saying that his gun is wet, yet his grenades and remote are working. Moments before stabbing Dwight, Miho comes and impales him painfully with her katana.
In the film adaption Brian is portrayed by Tommy Flanagan.