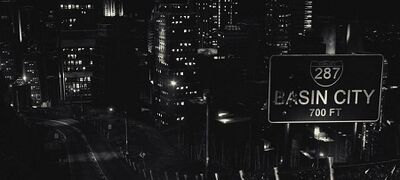 Basin City
, almost universally referred to by the nickname Sin City, is a town in the American west.
Sin City comes from a "Welcome to Basin City" road sign with the B and the A covered in spray paint so the sign reads "Welcome to Sin City."
Description
The climate is hot and arid, although
Sacred Oaks
is characterized as being heavily wooded. A major river runs through the city, which has an extensive waterfront. Usually twice a year, a major downpour comes, and the city gets heavy snowfall in the winter. Basin City has a surreal, Pan-American feel with desert lizards and palm trees common, while tar pits, desert areas, mountain ranges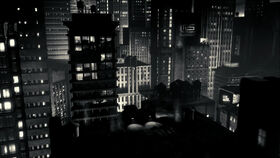 and flat farmland make up the landscape around the city.
History
During the California Gold Rush, the Roark family "imported" a large number of attractive European women to keep the miners happy, making a fortune and turning a struggling mining camp into a thriving, bustling city. Over the years, as the Roark family migrated into other areas of business and power, these women ended up forming the district of Old Town, the prostitute quarter of the city where they rule with absolute authority. In addition, the people charged with governing the city, most of them from the Roark line, remained in power for generations, running it as they saw fit.
Having became a watering hole for the criminal element in the deep West, partially due to the growth of Old Town, decades later it evolved into a gritty metropolis of scum and villainy, complete with corrupt police force, multiple types of organized crime.
Map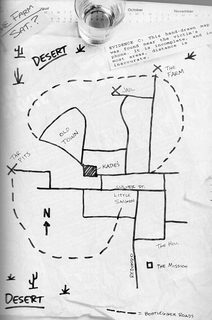 Districts
Other locations