Jurassic World: Dominion Dominates Fandom Wikis - The Loop
Play Sound
"
You've just made me a very rich woman.
"

— Ava to Dwight

Ava Lord was a femme fatale and Dwight's love interest. They had a strong relationship, until she left Dwight for Damien Lord, a rich man whom, as she confessed, she did not love.
In reality Ava was a professional "devourer" of men; she had affairs and destroyed "dozens" of them; had an affair with a priest who committed suicide, an artist (whose masterpiece was a sculpture of Ava) who ended up a homeless mad in the streets and more. All her life, she was known to pursue money and tended to use men to acquire wealth. Dwight recalls that, during his time with her, "everything had to be first class."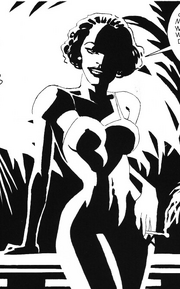 Four years after their separation, Ava was afraid for her life. She asked Dwight to meet in Club Pecos and Marv was also there. Ava arrives late and tries to persuade Dwight to take her back, claiming that her life is "a living Hell." Dwight refuses as Manute arrives, taking Ava away. Dwight goes home, but cannot sleep, so he decides to check up on Ava and Damien.
He hops a fence and, using his photography equipment, scopes out the estate. He is discovered and claims that he is a peeping tom. Manute seemingly doesn't recognize him, but beats him brutally anyway. Dwight calls Agamemnon for a ride home, and they stop to get pizza. As he arrives home, he finds his Ford Mustang returned and his door unlocked. In his bedroom is a nude Ava. They eventually reconcile and make love.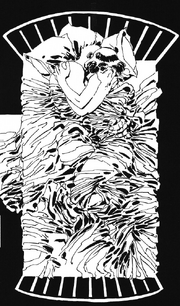 Manute arrives and violently beats a naked Dwight. Dwight is knocked out of his upper story apartment window, where he blacks out momentarily. He awakens to find Manute driving off with Ava.
Dwight arrives at Kadie's, where Marv is in the middle of a squabble with some out-of-town punks. One of them pulls a gun on Marv, who knocks him flat. Dwight convinces Marv to help him storm Damien's estate. They drink together and watch Nancy Callahan dance. As they approach the mansion, Dwight insists Marv leave the punk's gun, which Marv has procured, in the car. Marv tackles the guards as a distraction and eventually takes on Manute. Marv rips Manute's right eye out and beats him savagely. With Manute occupied, Dwight makes his way to Damien. When he finds him, he beats him to death. Ava appears, and explains how Dwight was all a part of her plan to get Damien murdered so she could inherit his estate. She shoots Dwight six times, including once in the head. Dwight once again falls out of a window and is picked up by Marv.
Two detectives following up on Damien Lord's death, Mort and Bob, talk to Ava. She claims that Dwight was a stalker who killed Damien out of jealousy. They believe her story, and Mort starts sleeping with her. They interrogate Agamemnon, who defends Dwight as an upright man who went clean after a wild youth of alcoholism. When they speak with Dwight's landlady, she says she let Ava in the night of Damien's murder, and heard a loud fight. Bob doubts Ava considerably now, while Mort, still sleeping with Ava, becomes more on-edge towards his partner. This culminates with Mort killing Bob, then committing suicide.
Meanwhile, Dwight is recovering from his near-fatal wounds and calls Ava to inform her he's coming for her soon. Ava, with her late husband's financial assets, is joining her corporation with the mob boss Wallenquist. Wallenquist, unaffected by Ava's flirting, warns her not to flirt with him again and tells her to tie up her loose end with Dwight and has someone arriving from Phoenix soon to meet her about that.
Dwight, who now has a new face, poses as Wallenquist's man from Phoenix, accompanied by Johnny and Dwight. Once inside Ava's estate, Manute sees past the new face and captures Dwight. Gail and Miho strike from Dwight's car, and Dwight shoots Manute with a hidden .25 he had up his left sleeve. Six bullets fail to kill him, and Manute aims at Dwight as Ava grabs one of Manute's guns, shooting Manute in his shoulder. Manute falls through a window and upon landing, Miho stabs him in the arms, pinning him to the ground. Ava then tries telling Dwight that Manute had her under mind control to manipulate her and Damien and that it would be a cruel irony if he killed her now. Dwight finally sees through all the lies and kills Ava.
Even 4 months after their separation, Dwight could not overcome Ava's rejection.
Despite being dead by the start of the comic, Ava is indirectly mentioned when Gail remarks on Dwight's "lousy taste in women. These days, anyway..."
Ava Lord is portrayed by Eva Green.
Gallery
Comics
Sin City: A Dame to Kill For